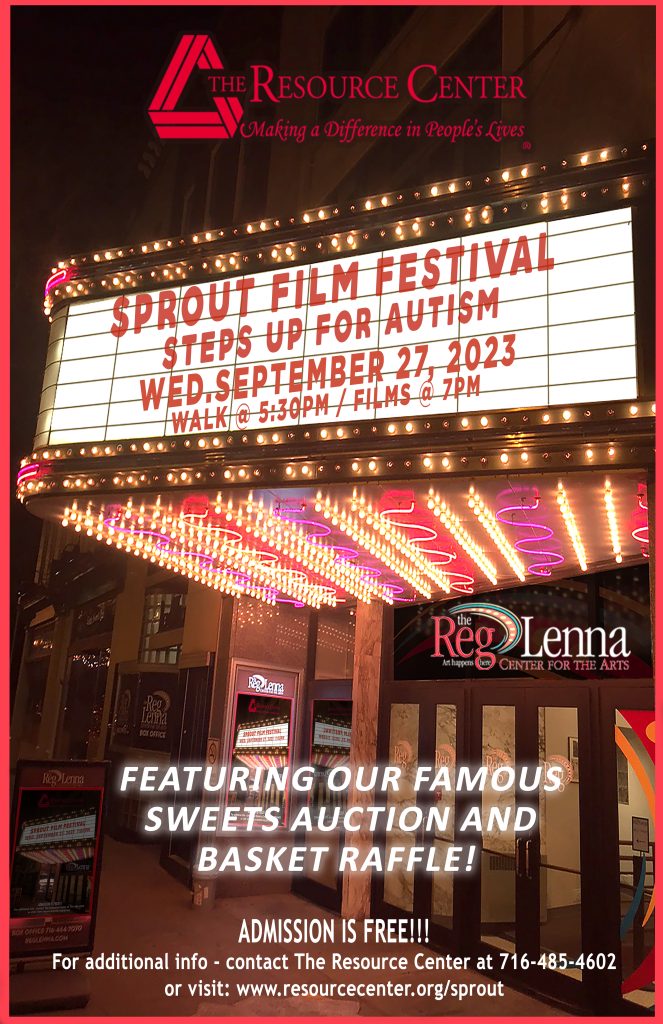 New this year, the Sprout Film Festival will be combined with our Step Up for Autism Walk! That also means a basket raffle and our Famous Sweets Auction!
The Sprout Film Festival Steps Up for Autism takes place on September 27th! Walk begins at the Reg Lenna Center for the Arts at 5:30pm, Sweets Auction starts at 6:00 pm and films are screened at 7:00 pm.
Join The Resource Center at the Reg Lenna Center for the Arts for an amazing evening!
Since its founding in 1979, Sprout has provided a year-round travel program of vacations as well as a year-round program of day and evening cultural, social and art-related activities in New York City for people with developmental disabilities. Since 1995, Sprout has run an annual weekend-long music, film and arts festival for an average of 225 people with developmental disabilities complete with live bands, video screenings, interactive art projects, carnival games, and other entertainment.
In 1994 Sprout created the Make-A-Movie Program which uses people with developmental disabilities in all the major acting roles. In 2003 Sprout founded the annual Sprout Film Festival to showcase film and video related to the field of developmental disabilities, made in the United States and abroad.
The Sprout Film Festival's mission is to inspire audiences, promote inclusion and support transformative filmmaking as an integral part of social change. This unique event, which focuses exclusively on films that celebrate the diverse lives and creativity of people with intellectual and developmental disabilities (I/DD), strives to challenge assumptions and breakdown stereotypes. By introducing powerful, thought-provoking films from around the world to new and ever-more inclusive audiences, we hope to promote greater acceptance, celebrate difference and light the spark to help make the invisible, visible.
The Sprout Film Festival was founded in 2003 and is programmed and supported by Sprout, a New York City based non-profit organization dedicated to bringing innovative programming to individuals with I/DD.
The success of the Sprout Film Festival gave rise to the Sprout Touring Film Festival that travels the country to inspire people from every walk of life. Audiences have had the unique chance to view these wonderful and thought-provoking films here in Jamestown, NY.