The Resource Center has been making a difference in the lives of individuals with disabilities and their families since 1959. And now you can help support our mission and our exciting community events!
Over the years, tens of thousands of people with disabling conditions have been able to enjoy fuller, more meaningful lives thanks to our dedicated efforts. They are the people who live on your street; they are the people you sit with in your place of worship; they are the people next to you in the grocery line; and they are the people you work with. While people with disabilities have made great strides and are afforded more opportunities today than in generations past, there is still not enough funding to provide the supports needed for them to experience everything life has to offer.
If you or your organization is interested in sponsorship, please use our online form at the bottom of this page or call Steve Waterson, Community Relations Director, at 716. 661.4735. We look forward to partnering with you! If you are a business interested in corporate sponsorship, please click on the corporate sponsorship graphic below to learn more!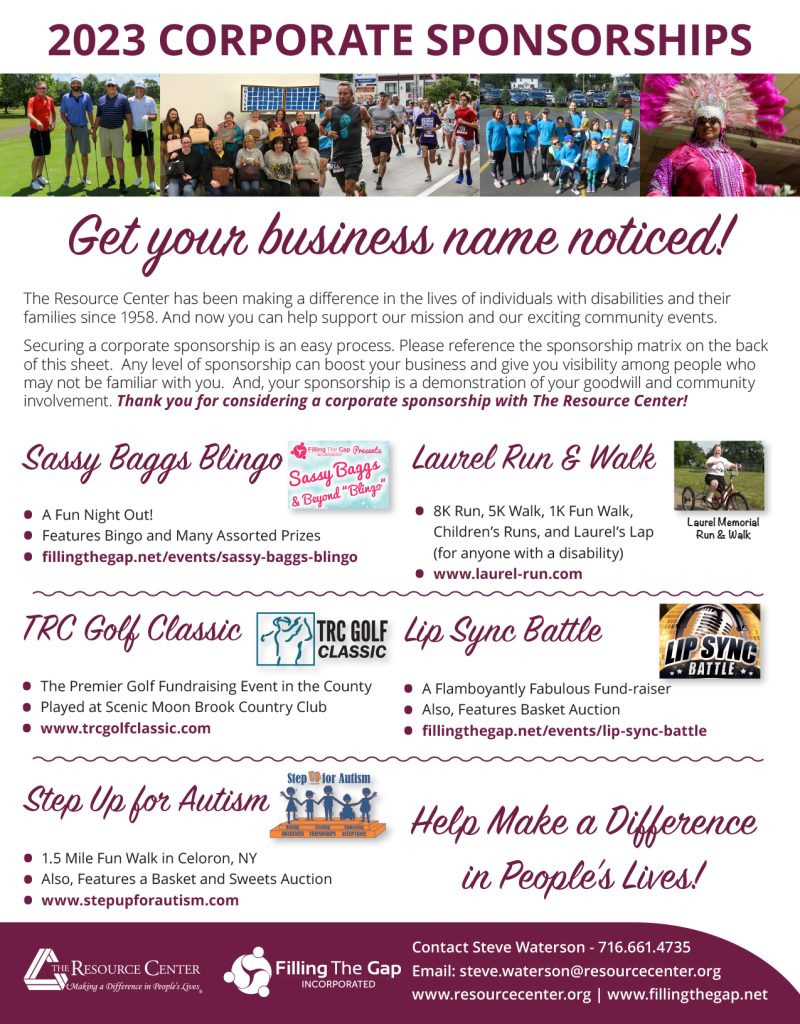 Sassy Baggs Blingo
Those looking to enjoy a fun night out while supporting people with disabilities should plan to attend the Sassy Baggs & Beyond "Blingo" fund-raiser. The evening features bingo, with designer handbags as prizes. In between the Blingo games, there are drawings for additional prizes.  Click here to visit the Sassy Baggs Blingo page.
---
Shake, Rumble & Roll
Shake, Rumble & Roll begins at The Resource Center at 200 Dunham Avenue. Supporting is as easy as riding a bike. This event has been created in a strong effort to support the services and programs for people who have suffered from Traumatic Brain Injury, PTSD, and all of the behaviors and challenges associated with those situations. Click here to visit the Shake, Rumble & Roll page.
---
Laurel Memorial Run & Walk
Laurel Memorial Run & Walk was created by Wayne and Elaine Hotelling of Silver Creek, NY, in memory of their oldest daughter, Laurel, who had Down syndrome. The event takes place the third weekend in July. Laurel Run celebrates the achievements of individuals with disabling conditions and raises money for The Resource Center through Filling the Gap to promote disability awareness and prevention activities in Chautauqua County, NY. The event also enhances employment and work training opportunities for adults with disabilities. Click here to visit the official Laurel Memorial Run & Walk page.
---
TRC Golf Classic
The TRC Golf Classic takes place each August on the beautiful course at Moon Brook Country Club near Jamestown, NY. Over the years, the tournament has netted more than $1.7 million for The Resource Center through Filling the Gap, which raises money to improve the lives of people with disabling conditions in Chautauqua County. Click here to visit the official TRC Golf Classic page.
---
Lip Sync Battle
Our most flamboyantly fabulous fund-raiser is the annual Lip Sync Battle. Contestants – many wearing glamorous attire – battle it out to see who will be crowned the Lip Sync Champion. Money raised through the Lip Sync Battle benefits the Mark Pacheco WOW (Working on Wonders) Fund, one of The Resource Center funds managed by the Chautauqua Region Community Foundation. The WOW Fund was established to memorialize Mark's life and his many contributions to TRC and to the community at large. Mark was a TRC employee who died in 2010. The WOW Fund's purpose is to make wishes and dreams come true for people with disabilities by providing funds to enable them to enjoy events or experiences they couldn't otherwise. Click here to visit the Lip Sync Battle page.
---
Step Up For Autism
Step Up for Autism is a 1.5 Mile Fun Walk in Celoron, NY. Proceeds from Step Up for Autism go to The Resource Center through Filling the Gap. Money raised through the event supports people on the autism spectrum. Why not step up and walk with us this year? Click here to visit the official Step Up For Autism page.
---
OTHER OPPORTUNITIES
Summer Camp
Each August, TRC gives individuals with disabilities the opportunity to spend a week at the YMCA's Camp Onyahsa. Of all the tremendous ways that TRC improves the lives of people with disabilities, this is one of the greatest things we do. Help someone experience the joys of camp life by sponsoring a camper.
---
Educational Conference
Created by TRC in 2008 so Western New Yorkers can attend a quality conference without traveling to far-off places such as Albany or Washington, the Educational Conference features presenters in topic areas including Autism and Traumatic Brain Injury.
---
Ability Awareness Awards
This annual event celebrates individuals with disabilities who have made milestone achievements during the past year. We also pay tribute to community members and organizations that have helped improve the lives of people with disabilities. Sponsorship opportunities for this event include advertising in the program booklet.
---
Employee Service Recognition Luncheon
Each January, TRC recognizes those employees who, during the previous year, completed milestone years of service with the agency. We also honor our Employee of the Year and Direct Support Professional of the Year.
---
Direct Support Professional Recognition
Direct Support Professionals (DSPs) are the backbone of our agency, providing hands-on care and support to the individuals with disabilities we support. Each September, we hold a reception honoring our DSPs. Help us make this event even more special by sponsoring the DSP Recognition Celebration.
---
TRC Night at the Ballpark
Each summer, TRC invites employees, Board members, people with disabilities, and family members to attend a Jamestown Tarp Skunks baseball game. "Play ball" with TRC by sponsoring the tickets to the game.
---
TRC Staff Picnic
Want to get your name in front of hundreds of TRC staff members and their families? Then consider sponsoring our Staff Picnic, held each July.
---
Capital Projects
As an innovative agency that always is on the move, The Resource Center typically has one or more capital construction projects going on. And we always need help financing these projects. In exchange for financial support, we can name a portion of a building in your honor so that your contribution will be acknowledged in perpetuity.
---
Newsletter advertising
Reach more than 1,300 people by advertising in The Resource News, TRC's monthly newsletter.
---
Web site advertising
Advertise your business on one The Resource Center's's web site or one of our special event web pages.
---
Cause-Related Marketing
Is your business a TRC supporter that already advertises in the local media? If so, why not promote the fact you support individuals with disabilities by mentioning it in your existing advertising? This will help spread the word about TRC while letting everyone know that you support people with disabilities in the community.
---
Membership gifts
Join the dozens of local businesses offering discounts to people who have a TRC Membership Card.
---
Fund-raiser gifts
TRC runs several special events during the year, and we encourage participants to raise money to support these causes. Get your name in front of our fund-raisers by offering prizes to people who raise the most money.
---
Contact TRC About Sponsorship!