Become a Member of The Resource Center
The Resource Center is a Membership Organization. Our members come from a variety of different areas: individuals who receive supports from TRC, and their families; TRC employees; people in the community who believe in TRC's Mission.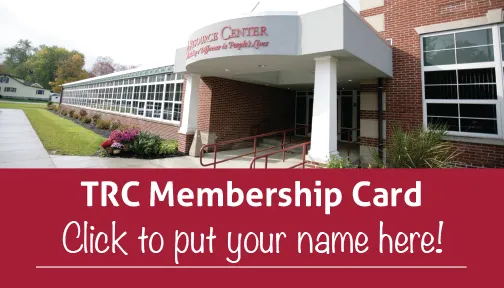 Membership is important for several reasons. Membership dues provide critically needed funds. But perhaps more importantly, Membership is a concrete way of demonstrating that people believe in the work TRC does, around the clock, 365 days a year, to improve the lives of people with disabling conditions.
Membership is important for another reason – the more members we have, the louder TRC's voice becomes when we need to express our opinion on a critical issue pertaining to services for people with disabilities. Because individuals with disabilities are among society's most vulnerable citizens, and often are unable to speak out for themselves, The Resource Center must serve as their advocate. Lawmakers and decision-makers take note when we mention that we have more than 500 dues-paying members, but imagine how much more attention they would pay to us if we could tell them we had more than 5,000 members!
Benefits of Membership
There are several benefits of Membership. One of these is the TRC Membership Card. This card entitles you to discounts at over 30 local businesses – discounts you can use over and over throughout the year. So whether you're dining at Applebee's, enjoying coffee at RydersCup, knocking down pins at Jamestown Bowling Company, or pampering yourself at Serenity Salon & Spa or Salon 1, your TRC Membership Card can save you money, over and above the cost of your TRC Membership. Click here to see the complete list of businesses offering discounts to TRC Members.
By becoming a Member of The Resource Center, you also become a member of The Arc New York, the nation's largest non-profit organization serving people with intellectual and other developmental disabilities. Together, The Resource Center and the other 35 chapters of The Arc New York boast a membership exceeding 100,000 people. By becoming a member, you give TRC and The Arc New York a stronger voice when we advocate on behalf of people with disabilities.
As a Member of The Resource Center, you'll receive our newsletters and Annual Reports. And, you'll be eligible to attend our Annual Membership Meeting.
But the most important benefit you'll receive by becoming a Member of The Resource Center is the warm feeling that comes from knowing that you are Making a Difference in People's Lives!
For more information, or if your business would like to offer a discount to TRC Members, contact Kayla Bohall, Corporate Administrative Assistant, at (716) 661-1434 or kayla.bohall@fillingthegap.net.
Become a TRC Member