To provide direct care and supervision in all activities of daily living, implement individual's Habilitation Plan, complete required documentation regarding individual milestones and behavior management programs, participate as an active member of a team with other program/department staff to provide the identified supports to participants, and enhance the skills and/or create the opportunity for consumers to achieve maximum independence, inclusion, individualization, and productivity. The Direct Support Professional Aide must demonstrate knowledge and understanding of all SCIP protocols and procedures, utilizing positive behavioral support and lesser restrictive means of addressing maladaptive behavior before advancing to restrictive SCIP maneuvers. The Direct Support Professional Careerist must possess the unrestricted ability to routinely implement and perform all approved SCIP-R techniques, as needed or assigned.
To provide, monitor and supervise functional, continuous active treatment for assigned individuals within the Intermediate Care Facilities in both the day and residential settings. Serves as the primary advocate for assigned individuals; acts as the facilitator of the Interdisciplinary Team to integrate, coordinate, implement, monitor and adjust, as needed, each individual's plan; to ensure that program plans are implemented consistently in both settings and enable individuals to reach their maximum level of independence; by regulation, to be responsible for all aspects of programming, general welfare, quality of life and well-being for individuals on assigned caseload.
To generate and maintain necessary records for the purpose of receiving and recording payments and submission of reports as required utilizing a computerized and/or manual systems. Generate and submit billing to payers as assigned/required.
In close collaboration with the Executive Director, provides leadership and support to ensure assigned areas of responsibility are Mission Focused, maximize operating performance, adhere to sound business and quality practices, and are in compliance with all applicable regulations. As a member of the Executive Management Team (EMT), participates in outcomes planning, supports the development of policies and procedures, ensures a healthy work culture, and positively represents the organization at all times. To provide legal counsel to The Resource Center and affiliated entities.
To assist the assigned Assistant Director of Finance in all required processes of accounting, reporting and financial operating activities including, but not limited to, the allocation of revenue and expense across separately reported programs, timely processing of assigned accounting function and tracking/ reporting statistical data. To maintain systematic records of financial transactions and assist in the development and analysis of program-specific business plans. Supervise assigned staff.
To place, develop, implement and manage sound fiscal systems for the Agency's operations and its affiliated corporations. To administer, direct and coordinate inter-departmental policies and procedures and outside relationships to ensure sound and stable management of all Agency's fiscal operations and activities.
To partner with persons receiving supports by developing a comprehensive, integrated, and clear strategy for the TRC habilitation services that support them; ensuring cohesive implementation and focused progression towards each person living a full and satisfying life commensurate with their lifestyle and realizing their life goals and citizenship with urgency, intention, and determination. To co-coordinate care for each person's individualized plan with Care Coordination.
This party will be rolling. And everyone is invited!
The Resource Center is collaborating with other organizations to hold a free community bicycle ride Saturday, June 3, in Dunkirk. The ride will begin at 1:00 at The Point Restaurant on Lake Shore Drive.
The ride is called the Dunkirk Pedal Party. Participants will follow a route taking them through various neighborhoods, along the lake front and into Point Gratiot Park. Along the way, there will be stops at Washington Park, Wright Park Beach and The Resource Center's facility on Lake Shore Drive. At those points, riders will learn about the services and supports The Resource Center provides to the community.
The total distance is about 12 miles, and the ride is expected to last about 90 minutes. For people who don't want to do the full ride, there is an option to do a 2-mile loop that takes riders through Point Gratiot, to The Resource Center and back to The Point. The 2-mile loop was added to make it possible for people of all ages and abilities to participate.
The full ride also will end at The Point, where participants are encouraged to stay to enjoy music and refreshments.
The Pedal Party is patterned after the Slow Roll Buffalo and Central Connection initiatives, in which cyclists gather to take bicycle tours of the communities. These rides are not races.  Rather, as the name implies, Slow Roll cyclists take a leisurely ride.
About 110 cyclists participated in last year's ride, and organizers anticipate a larger turnout this year. Participants will receive a free gift as a thank-you for supporting the event.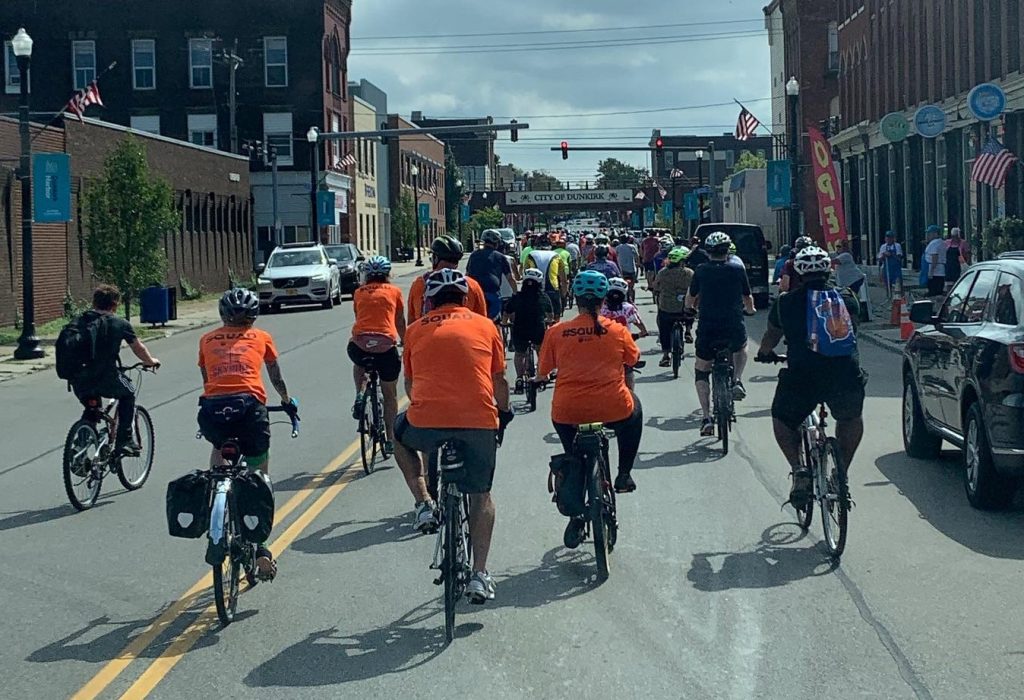 The Dunkirk Pedal Party is being organized by The Resource Center; its STARS employee wellness program; Filling the Gap, Inc.; and Slow Roll Buffalo.
Though the event is free, organizers encourage those planning to participate to register online. It is recommended that all riders wear a certified helmet; New York State law requires children under 14 years old to wear a certified helmet when riding on a bicycle.
For more information, phone The Resource Center at 716-483-2344.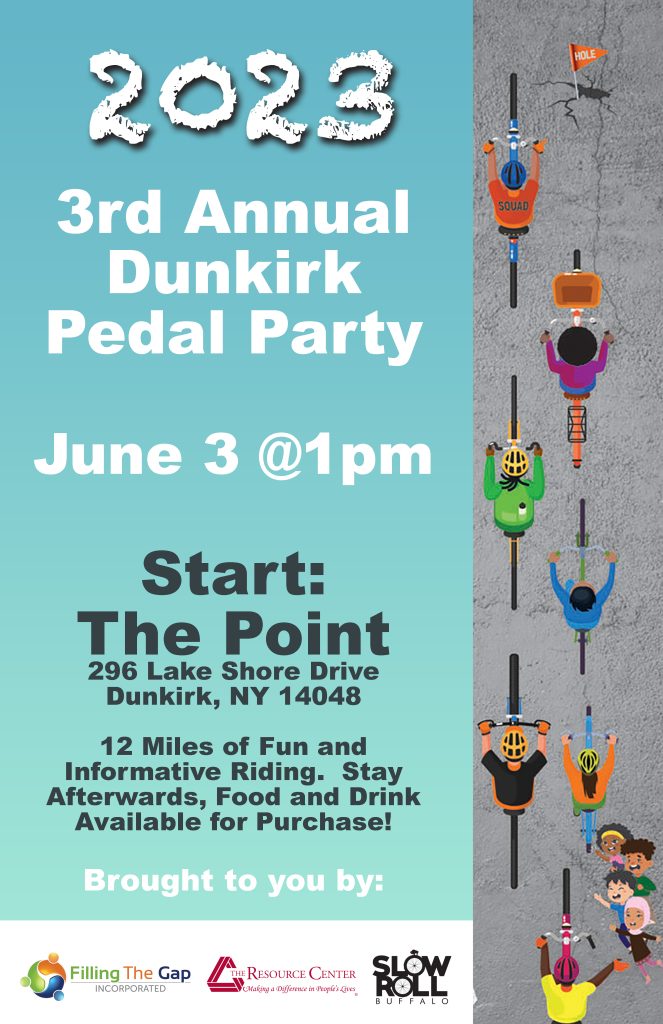 CALL TO ACTION!
THE NYS BUDGET MUST SUPPORT NEW YORKERS WITH DISABILITIES!
The New York State Budget is TWENTY-FOUR Days Late!
We must keep up our fight!
Add your voice to our one-click campaign!
Send a letter to ALL your representatives with just one click here! If you haven't yet, do it now. If you've done it before, do it again!!!
Pick up the phone!
Call your local elected officials and tell them why the I/DD community is depending on an 8.5% COLA increase in this year's budget. Find your legislators and their phone numbers here.
Shout on Social!
Make some noise on social media! Tag Governor Kathy Hochul, Majority Leader Andrea Stewart Cousins, Speaker Carl Heastie, and your local elected officials in all your posts. Grab these downloadable graphics, or tell your own story!
Help make our collective voice heard in this final push!
The 8.5% COLA must be NON-NEGOTIABLE!
In accordance with its by-laws, The Resource Center announces its General Membership Meeting and Election will be held Monday, June 5, in TRC's Administrative Office Building at 200 Dunham Avenue in Celoron.
The event will begin at 6:00 p.m. with light refreshments.  All Active Members of The Resource Center who are in good standing (those who are current in their annual membership dues) are invited to participate in the meeting and to vote in the election and on any business items that may arise.
Those planning to attend the meeting should park in the rear lot and use the entrance at the top of the ramp. Those who wish to attend the meeting via Zoom may register at www.surveymonkey.com/r/LJ3FDYD.
All Active Members in good standing who are unable to attend the meeting are encouraged to vote in the election online.  Click here to cast your vote.
The tentative meeting agenda is as follows:
Call to Order – 6:15
Approval of the minutes of the 2022 General Membership Meeting
President's Report – Richard Erickson
Treasurer's Report – Todd Jacobson, MD
Executive Director's Report – Denise Jones
Presentation – "Staff Orientation and Learning – Developing Talent, Achieving Greatness"
Election
Recognition of Outgoing Director Marlene Sirianno, Esq.
Adjournment by 7:15
The Nominating Committee — composed of June Jacobson, Chair; Carole Johnson and Gregory Krauza — has proposed the following candidates for Officers and Directors of the Board of The Resource Center, as well as candidates to serve on the Nominating Committee for the 2024 Election:
Officers (one-year term)
President — Richard Erickson
Vice President — Richard Kimball
Secretary — Dawn Columbare, DNP
Treasurer — Todd Jacobson, MD
Directors (two-year term)
Marie Carrubba, Esq.
R. Michael Goldman, Esq.
Lisa Goodell
Nominating Committee
Kathy Field
Laurie Goold
Mary Jo Hamilton
Carole Johnson
Gregory Krauza
For more information or to indicate you plan to attend the meeting, phone (716) 483-2344.
If you have not paid your 2023 TRC Membership dues, click here to make a secure, online payment.  Your membership demonstrates your commitment to The Resource Center's mission.  In these challenging times, your support of TRC is extremely important.  People who pay the $10 annual membership dues receive a Membership Card entitling them to discounts at more than 30 local businesses.