The Ask
Use our advocacy tool to tell your members of Congress that direct support professionals need a standard occupational classification!
The Details
People with intellectual and developmental disabilities (I/DD) leverage the services of direct support professionals (DSPs) in order to live and work in their homes and communities. However, low wages due to stagnant reimbursement rates have led to high turnover and vacancy rates in the DSP workforce. The loss of DSPs across the field has left many people without stable access to home- and community-based supports.
Because we need data to understand the scope of the workforce crisis before we can fully solve the problem, the creation of a standard occupational classification (SOC) for DSPs is essential to ensuring people with I/DD have access to critical supports and services. A unique SOC for DSPs would help states and the federal government collect data on demographics and turnover rates. This, in turn, will help inform policies to address the workforce shortage. A DSP SOC will also help states more accurately set rates, which could positively impact DSP wages.
Tell your members of Congress today to support the bipartisan "Recognizing the Role of Direct Support Professionals Act" (H.R. 4779 / S. 1437), which requires the Office of Management and Budget to establish a separate category within the Standard Occupational Classification system for DSPs.
Click the megaphone below to take action!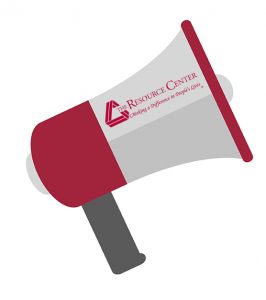 Because we need data to understand the scope of the workforce crisis before we can fully solve the problem, the creation of a standard occupational classification (SOC) for DSPs is essential to ensuring people with I/DD have access to critical supports and services. A unique SOC for DSPs would help states and the federal government collect data on demographics and turnover rates. This, in turn, will help inform policies to address the workforce shortage. A DSP SOC will also help states more accurately set rates, which could positively impact DSP wages.
Click here to make your VOICE heard!
We're proud to highlight the recent accomplishments of some of our staff: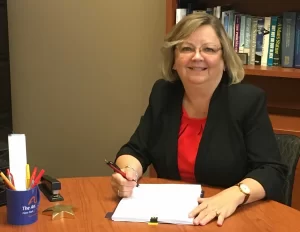 Executive Director Denise Jones has again been included among the most powerful businesswomen in Western New York.  Denise is ranked No. 32 on this year's Business First Buffalo's annual "Power 200 Women" listing.  This marks the eighth straight year Denise has been included on the list.  Last year she was ranked No. 34.  Earlier this year, Denise also was ranked No. 67 on Business First's "Power 250" list of the most influential business leaders in the eight-county WNY region.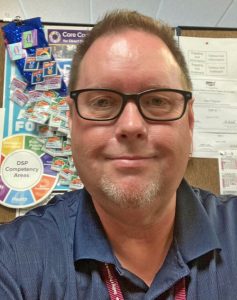 Staff Development Specialist Don Traynor co-wrote an article for the August issue of Frontline Initiative: The Diverse Voices of Direct Support Professionals.  The article is titled "Staying True to Yourself in Your Work."  Don drew on some personal work experiences to convey concepts of "Cultural Reflection" (recognizing one's own biases and not letting them interfere in work relationships) and "Cultural Connections" (assisting people to find social, learning and recreational opportunities valued in their culture).
"When providing supports to people in situations where some of the person's beliefs, values and attitudes may not align with my own," Don wrote, "it's important to have the ability to recognize the purpose of your presence in the life of someone you support.  My professional role is to provide support as a conduit to help someone else execute their life on their terms.  I'm not being asked to change my belief system to do this."
To read the entire article, click here and scroll through the article headings on the left.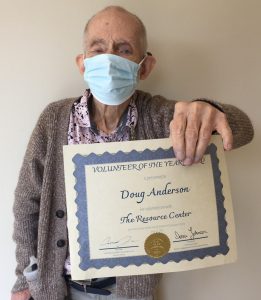 Doug Anderson, who is a member of the Recruitment team that interviews applicants for Direct Support Professional positions, holds a certificate naming him TRC's Volunteer of the Year by the United Way of Southern Chautauqua County.  Doug serves on our Board of Directors and Human Rights Committee.  He also is a member of a Continuous Quality Improvement Workgroup focused on strengthening our workforce.  In addition, Doug advocates to New York State leaders to provide more funding for organizations that support people with disabilities.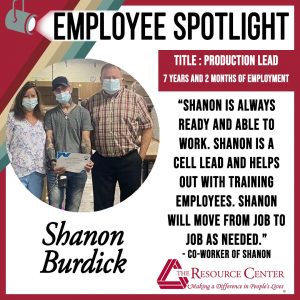 Shanon Burdick was named the Employee of the Month at our manufacturing facility in Dunkirk, after being nominated by his peers. Shanon's co-workers admire him and like the fact he smiles and says "Good morning" to everyone. He is pictured here receiving his award from Sandy Korzeniewski, left, Production Coordinator, and Harold Roberts, right, Production Superintendent.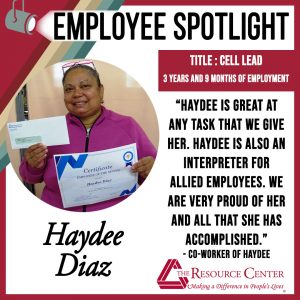 Haydee Diaz recently was named the Employee of the Month at our Allied Industries manufacturing facility in Jamestown, after being nominated by her peers. She has worked her way to become a leader among her co-workers.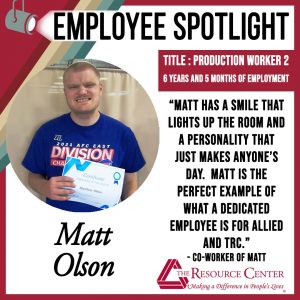 Matt Olson recently was named the Employee of the Month at our Allied Industries manufacturing facility in Jamestown. "Matt is a dedicated worker and puts 100 percent into anything that is asked of him," said a supervisor, adding that Matt "has proven that if you put your mind to it, anything is achievable."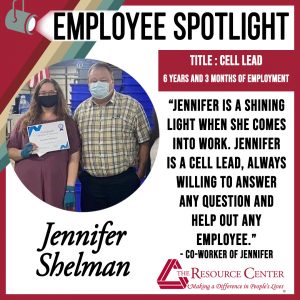 Jennifer Shelman recently was named the Employee of the Month at our Allied Industries manufacturing facility in Dunkirk. A co-worker said, "Jennifer can handle any task that we give her with grace, and she will do her best that she can." She is pictured here with Harold Roberts, Production Superintendent.
Arthur Silleman recently was named the Employee of the Month at our Allied Industries manufacturing facility in Dunkirk. He is well-liked by his co-workers and says "Good morning" to everyone. Arthur's a hard worker and moves from job to job throughout the day. He is pictured here with Todd Frangione, Director of Business Operations.
The Resource Center recently had the opportunity to support Ukraine in its war against Russia, providing first-aid kits for medics working on the front lines.
Click here to watch a video of the first-aid kits being assembled and prepared for shipping.
Workers at Allied Industries, TRC's manufacturing and employment division, assembled and shipped 2,000 individual first-aid kits (IFAKs).
Allied was selected to produce the IFAKs by Mission Ready Solutions Inc., a Canadian-based provider of comprehensive government contracting solutions. The kits were delivered to a non-profit organization called Support Hospitals in Ukraine, which currently is focused on delivering tactical medicine, field surgery kits and trauma supplies as a result of Russia's war on Ukraine.
The first-aid kits were delivered to ground forces in eastern and southern Ukraine and given to combat medics.
Allied Industries workers and officials were proud to have the opportunity to assist Ukrainian forces.
"I think that it can be very gratifying to work for TRC and, in this case, Allied Industries," said Paul Fardink, Work Center Contractor. "Allied has long been a supplier of note to our American military and Department of Defense. And, when asked to support humanitarian efforts such as those in Ukraine, we should feel some pride that we at TRC are able to do so."
Indeed, this is just the latest example of TRC and Allied Industries providing humanitarian relief. During the Bosnian war in the 1990s and the second Gulf War, Allied produced cargo bags that were used to air-drop relief supplies to residents.
Other Allied humanitarian initiatives have included providing water-purification tablets to survivors of the 2004 Asian tsunami and donating mosquito netting to Africa.
While hoping the war between Russia and Ukraine ends soon, Allied officials said they are prepared to produce additional first-aid kits if needed.
Click here to make a donation to Support Hospitals in Ukraine Foundation.
For the sixth time in the past seven years, The Resource Center has been crowned one of the healthiest employers in Western New York
The Resource Center was one of four businesses honored with a first-place designation in the "Western New York's Healthiest Employers" competition.  TRC finished atop the Large division (for companies with 501 to 1,600 employees).  Other categories were Small (200 employees or fewer), Medium (201-500 employees) and Extra Large (more than 1,600 employees).
The annual competition was sponsored by Buffalo Business First, Independent Health, Wegmans, Best Self Behavioral Health, Springbuk, and Walsh Duffield Companies, Inc.  This marks the third straight year TRC has claimed first place in its division.  TRC also won its category in 2016, 2017 and 2018 and was a finalist in each of the two years it did not win (2019 and 2015).
TRC officials were thrilled the agency had again won the competition.
"The STARS team continues to shine bright as they bring yet another award back to TRC," said Heather C. Brown, Assistant Executive Director of Program Operations, who oversees the STARS Program and TRC's clinical services.  "We are so proud to be recognized again this year among the healthiest employers in our region."
The key to The Resource Center's success is its STARS employee wellness program.  In place since 2013, the program provides a variety of wellness options for TRC employees.  The fact The Resource Center operates its own wellness program gives TRC a leg up over companies that contract with external vendors to operate their wellness programs.
TRC also scores highly by virtue of collaborating with other organizations locally and regionally.  These include Chautauqua Health Network, Hope Chautauqua Bright Spots, Live Well Western New York, Population Health Collaborative, Prevention Works, Roswell Park, and Tobacco-Free Chautauqua Cattaraugus Allegany.  In addition, TRC hosts several American Red Cross blood drives each year.
The STARS wellness program offers a personalized wellness plan based on a person's self-reported satisfaction level along five life domains.  STARS also features lunch-and-learn education and exercise get-togethers, discounts on health insurance premiums and weight-loss programs, and employees can participate in several group and individual challenges throughout the year.  Through participation in those challenges and other activities, STARS enrollees earn incentive points that can be redeemed for prizes.  Though only employees who participate in TRC's health plan are eligible to enroll in STARS, The Resource Center allows all employees to undergo health coaching.
STARS participants annually undergo a biometric blood analysis.  While individual results are confidential and shared only with the employee, the STARS team receives a report summarizing the combined results of everyone who undergoes the testing.  Those data enable the STARS team to assess how well program enrollees are performing as a group, and the results help form the program's goals for the coming year.
"This program, available to all TRC employees, truly differentiates us as an employer of choice," said Brown.  She encourages TRC employees who are not connected to STARS to give the program a try.
Having won the regional competition, The Resource Center is eligible for consideration in the "Healthiest 100 Employers in America" competition.  Those results will be announced in October.  Last year, TRC was named the 55th healthiest workplace in America, marking the sixth straight year TRC had been recognized in that competition.
As a result of its strong performances over the years, The Resource Center recently was included among the first 20 businesses nation-wide to be inducted into the Healthiest Employers Hall of Fame.
Suzette Smith recently was honored with a Future of Excellence Award from The Arc New York Executive Directors' Association for her work at The Resource Center.
Smith, a Sinclairville resident who is TRC's Assistant Finance Director, received her award in the category "Excellence in Support Services."  She was one of five people chosen to receive the inaugural awards as part of an EDA initiative to recognize exceptional performance and leadership by staff members at Arc NY chapters.
A TRC employee for 27 years, Smith often is relied upon for critical reporting deadlines and will work outside of scheduled hours to accomplish a goal or meet a deadline.  She also has expanded her scope of work by taking on the purchasing department in November 2019 and clinical billing team in March 2022.
Smith supported TRC in applying for grants to cover lost revenue due to the pandemic.  Thanks in part to her leadership, TRC received more than $1.5 million from the U.S. Department of Health and Human Services for Article 28 Clinic lost revenue.
Smith is regarded as an industry leader beyond TRC.  Within the Financial Management Association of Rehab Agencies, she serves as the president of the Central Region.  Smith organizes monthly FMA meetings and the annual conference.  Whenever regulatory clarity, feedback or insights are gained, she shares that information with FMA members.
It is common for people in the field to contact Smith with technical questions.  For example, she led data gathering of service providers in the Developmental Disabilities Alliance of Western New York regarding how much the agencies were being paid for the purpose of advocacy needs.  She also traveled to The Arc NY's Suffolk County Chapter to provide hands-on support, and she continues to assist its billing department remotely.  The Fulton County Chapter contracted for Smith's assistance in fiscal intermediary services and consolidated fiscal reporting during a period of short staffing at that agency.
The Resource Center's leadership praised Smith and her work.
"She sets a high standard of excellence for herself and her team," said Denise Jones, Executive Director.  "Her commitment to our field is evident not only in her impressive technical skills, but in her willingness to go above and beyond her job duties to support other organizations in the field through her active involvement in the leadership of the Financial Managers Association."
"Suzette has a vast revenue and reimbursement expertise and has allowed our agency to accurately forecast reimbursement rates" from state funders, said Kelly Dimitri, Chief Financial Officer and Chief Operating Officer.
Jones and Dimitri noted that in addition to her excellence in her regular job duties, Smith volunteers in support of many of TRC's fund-raising initiatives.
"Suzette has always kept our mission at the heart of all she does," Dimitri said.
Several other TRC employees were nominated for EDA awards and received honorable mention in their categories: Rosanna Hatfield, Clinical Site Supervisor ("Clinical Champion" category); Terri Johnson, Director of Employment and Community-Based Services ("Emerging Leader"); Meg Paolini, Nurse Manager ("Medical/Nursing Excellence"); and Jessica Smith, Quality Assurance and Quality Improvement Administrator ("Program Services Excellence").
The Executive Directors' Association is a partnership among the executive directors and chief executive officers of the chapters of The Arc New York.  The EDA connects executive leaders from across the state to promote excellence and professional leadership in support of The Arc NY mission.  The EDA seeks to assist The Arc NY and its chapters to provide quality supports and services to people with intellectual and other developmental disabilities and their families.  The Resource Center is The Arc NY's Chautauqua County Chapter.
The accomplishments of people with disabilities were highlighted when The Resource Center held its 33rd annual Ability Awareness Awards Celebration.
Click here to watch the video from the celebration.
The event took place at the Chautauqua Harbor Hotel in Celoron.  The celebration, which was delayed several months because of the pandemic, was an opportunity to recognize people with disabilities who have made meaningful strides in their lives, as well as honor community residents and organizations that have helped improve the lives of those who have a disability.
Welcoming remarks were given by Denise Jones, The Resource Center's executive director.
"This event is one of my favorites that we do, because it really pulls together and embodies what we are and who we are at The Resource Center," Jones said.  "We're about community, and at this event we recognize our community.  We're all about succeeding and providing opportunities for people, and you're going to hear all about that today.  I hope that you'll leave here feeling as inspired as I do every year when we have these awards."
As part of the celebration, a video about each of the honorees in attendance was shown prior to the award being presented.
The first honor was the Community Partnership Award, which was presented to the United Way of Northern Chautauqua County.  The United Way has been providing work training opportunities to people with disabilities from The Resource Center for about three years.
"I was happy to open our doors up to volunteers coming in from The Resource Center to provide them with work experiences, and the three years we've been working with that group of volunteers, they've brought so much life, so much energy, have just really made our workplace more enjoyable every day that they're here," said Adam Dolce, United Way executive director.
He said the United Way provides different work experiences based on volunteers' strengths and interests, and he said the people from TRC are important to the United Way's operations.
"They're a critical component to helping us help the community.  Over the last two seasons through our coat drive, The Resource Center volunteers have been an absolutely critical piece to making sure those coats get laundered and cleaned," Dolce said.  "The enthusiasm and the eagerness with which our Resource Center volunteers take that project on is so refreshing, and I think they appreciate knowing that they're making a difference in helping people, and we certainly appreciate the assistance and all the work they do for us."
The Edwin Roth Mental Health Award was given to Barbara Billings, a licensed mental health clinician with TRC's Counseling and Psychiatric Services.
Abigail Pickert, a care coordinator at TRC, nominated Billings for the award.  "She is the utmost professional and warm-hearted counselor," Pickert said of Billings.  "She really takes the time to be personable."
Pickert said Billings' commitment to her clients extends beyond counseling sessions, explaining that in instances in which Pickert and Billings work with the same person in different capacities, Billings will seek Pickert's insight about the person in order for Billings to better understand the client and be able to provide the most appropriate care.
"I love doing the counseling," Billings said.  "I love working with people.  I love doing the day-to-day process of helping people find themselves and be able to tap into the resources they have within them to meet the problems that they have day to day."
Billings, who said receiving the Mental Health Award validates her career choice, said she often wonders whether she is having a positive impact on her clients.
"A lot of times, I feel like, `Man, I'm not getting it, I'm not getting it.  What do I need to do to help this person?'  And then somebody comes along and says, `Well, guess what I did?'  And that's the exciting part.  It's the success stories that are the thing that made me understand that, yeah, I have made the right choice.  I found what I love to do."
She credited her co-workers and her clients for the successes she has enjoyed as a counselor.
"These guys and gals that work here are amazing.  We are a team, and we couldn't do it without each other," Billings said.  "We work together to make this the best possible experience for each other as well as for our clients.  Because at the end of the day, that's what we're here for."
The Mental Health Award is named in memory of the late Ed Roth, an official with the New York State Office of Mental Health.
The Business/Employer of the Year was Tanglewood Manor.  Tanglewood was chosen for the award because of the supports it provided to a worker with disabilities during the pandemic.
Before COVID arrived the worker, Lori Schneider, had a job coach from The Resource Center who accompanied her and supported her in performing her job tasks.  When COVID hit, Schneider was deemed an essential worker but her job coach was not, so the coach could no longer accompany her.  Tanglewood supported Schneider and contacted The Resource Center regularly to make sure the assisted-living facility was doing the proper things to enable her to be successful in her role assisting with activities.
"They would call me every day to check in to make sure that they were doing right by her," said Ladena Marks, TRC case manager.
Thanks to Tanglewood, Schneider was able to be successful in her job, and in the process she increased her independence and sense of pride by discovering she no longer required assistance from a job coach.
"I want to keep this job," Schneider said.  "I really enjoy it, and I enjoy my boss and the residents."
Madison Fehlman, Tanglewood's activity director, accepted the Business/Employer of the Year Award.  She said Tanglewood was honored to partner with The Resource Center to provide employment opportunities to people with disabilities.  Fehlman added that as much as Schneider likes her job, Tanglewood's residents enjoy having her there.
"It is such a wonderful thing for her, she feels important being there," Fehlman said.  "It's also really important for our residents having someone come in that is motivated to work and so happy to be there.  It really brightens up their day as well."
The Elmer Muench Volunteer of the Year Award was given to Craig Colburn.  Colburn, a retired business executive, served on The Resource Center's board of directors for several years before stepping down last year.
"During his time on finance committee, he was a very active member of the committee.  He even volunteered additional personal time to help support us build rings of defense, how as an organization we can grow or retract depending on market needs, especially supporting our Allied Industries," said Kelly Dimitri, TRC's chief financial officer and chief operating officer.  "He also has supported us in taking big-picture tracking of fiscal performance by program and focusing in on where we may need improvement plans and what our plans are working toward."  Also developed a one-page summary of financial results by program to help fellow board members know how TRC is performing based on the prior year and the current budget."
As a member of TRC's board and finance committee, Colburn noted, "The biggest agenda item always is to make sure that, financially, we are on the right track as an organization and sustainable so we can complete our mission and continue to serve the most important people we have, which is our clients."
"I love TRC," he continued.  "The longer you're associated with it, the more it weaves into your heart.  It's a very special organization, it's a very professional organization, and it serves a very, very vital purpose, and I can't say enough about how great this organization is."
The Volunteer of the Year Award is named in memory of Elmer Muench, a longtime volunteer for The Resource Center.
The Advocate of the Year was Andrew Heggarty, who is a direct support professional at one of the homes operated by The Resource Center.  Heggarty, who has worked for The Resource Center for 17 years, was honored for the ways in which he interacts with the home's residents, particular one man who has challenging behaviors.
"I enjoy helping, picking people up when they're down," he said in explaining his approach to his job.  "Be kind.  You never know what the other person's going through.  It doesn't cost anything to be kind to someone.  It's free, and it probably helps them, it helps you, and it gets passed along."
He thanked his co-workers for their support and said it takes the efforts of all employees working there to make the home run smoothly.  "You've got to rely on members of your team," he said.
"What we do is fun, and I can't wait for more journeys," Heggarty said of his role as a direct support professional working with people who have intellectual and developmental disabilities.
The Bruce Walford Community Service Award was presented to Patrick Smeraldo.  Smeraldo is a schoolteacher as well as an independent service coordinator with Chautauqua Connections Inc. and its Connections Children's Coalition.
Heather C. Brown, TRC's assistant executive director for program operations, said that through Smeraldo's work overseeing the Connections Children's Coalition, he has established collaborations with more than 30 other local agencies to take on a number of initiatives to support area children and eliminate gaps in services.
One of those initiatives was the creation of Kids & Sibs summer camp for children with developmental disabilities and their siblings.  To ensure there would be enough funding so everyone could attend camp free of charge, Smeraldo solicited donations and then raised money by walking around Chautauqua Lake.
During a point in the pandemic when there was a shortage of personal protective equipment, Smeraldo used his personal and professional connections to ensure that area schoolchildren had access to face coverings.
"There were just a lot of different tasks that he got engaged in that were really going above and beyond what the normal coalition work was," Brown said.
"This is the most rewarding work I've done," Smeraldo said of his efforts with the Connections Children's Coalition.  "There's a definite need for agencies and school districts to collaborate and work together, because a school really can't do what an agency can assist them in."  A large agency such as TRC, that reaches into many areas of the county, can help all 18 school districts, he said.
"That's really the joy of what I like to do, is marry the two together and provide services for the kids so that they're able to possibly reach their maximum potential," Smeraldo said.
While honored to receive the Community Service Award, Smeraldo said more meaningful to him has been the chance to support others through his work with The Resource Center.
"The reward for me is the opportunities that The Resource Center's opened up for me, and to meet all kinds of new people and do various different projects, whether it's around health care or children or assisting with events," Smeraldo said.  "I will carry this with me for the rest of my life, the experience I have gained from here."
The Health Provider of the Year Award was given to Krista Petry, family nurse practitioner at TRC Community Health Center.  Deja Ferrara and Meg Paolini, nurse managers at The Resource Center, nominated Petry for the award because of the care Petry provides to residents of TRC's intermediate care facility on Foote Avenue in Jamestown.  Petry visits the homes twice a week to assess the health of residents, some of whom have complex medical issues.
"It really does make our job much easier to have her available to us, and she's just so easy to communicate with," Ferrara said.   "It's been extremely helpful and has helped us prevent some serious illnesses from progressing."
She and Paolini emphasized that Petry is able to gain deeper insight into the residents by visiting them in their homes, rather than seeing them at TRC Community Health Center.
"She is able to spend quality time with the individuals and see them in their own settings.  She's done a lot of very kind things that have lent themselves to going the extra mile," Paolini said.  "She is just really an asset to the individuals that we support by virtue of the fact that she can see them in their own environment and really get a good sense of what's going on in their own homes."
Petry said she is committed to providing the best care possible to all of her patients, and that spending time with the residents of TRC's homes, the nursing staff and the residents' families assists her in accomplishing that.
"I don't feel that every person, every resident, needs the same treatments, and so I really focus on trying to identify what's going to work best for that person," Petry said.  "I feel like I am making a difference and I see the improvements in my patients, and that is absolutely heart-warming and my goal."
Petry credited her co-workers at TRC Community Health Center, nurses and staff at TRC's homes and the staff at the agency's day programs for helping her to be able to be successful in treating her patients.
The Carl Cappa Humanitarian Award was presented to Dory Matwijkow.  Matwijkow has a son named Austin who is on the autism spectrum and lives in a TRC home.  She and her family have supported the Step Up for Autism walk The Resource Center hosts in conjunction with Filling the Gap, Inc.  When the event couldn't be held in 2020 due to the pandemic, Matwijkow organized her own Step Up for Autism walk in her hometown of Grand Island.  It was so successful, she held the event again last year.  Each walk generated more than $10,000 for Filling the Gap.
Matwijkow, who is a professional pastry chef, also bakes treats for humans and canines under the moniker Austin's Angels.  She then sells the treats to family and friends, donating the money to Filling the Gap.  In addition, Matwijkow and her husband, John, have donated thousands of dollars to The Resource Center to support the creation of TRC's Edgewater Art House.
"We really appreciate Dory and all of her efforts, and all of the money that comes our way through her different events," said Victoria Trass Bardo, Filling the Gap's development and events manager.  "We're very grateful."  She added that The Resource Center and Filling the Gap look forward to having Matwijkow and the rest of her Austin's Angels in attendance when TRC and FTG hold their first in-person Step Up for Autism walk in three years September 24.
Matwijkow was pleasantly surprised by the success of the walks she organized.  When she was planning her first walk two years ago, her initial goal was to raise $5,000.  Thanks to her efforts and the support of her family and friends, she doubled that amount.
"It was life-changing.  It was incredible.  It makes me feel like I'm doing a really good thing for people that need the money," Matwijkow said of her fund-raising walks and bake sales.  "It just makes me realize that I have a lot of friends that appreciate what I do."
She encouraged others to take the initiative to support causes important to them.
"I wish more people would try to do something," Matwijkow said.  "We all have a lot of free time, and just to try to raise some money just to donate it back, because it makes you feel really good."
The Humanitarian of the Year Award is named in memory of Carl Cappa, a Jamestown businessman and philanthropist who was dedicated to supporting the community, including people with disabilities.
Also recognized at the awards celebration was Maggie Rivera.  She was honored for having been selected by NYSID (New York State Industries for the Disabled) for recognition in its annual Outstanding Performer Program.  NYSID honored Rivera for her job performance as a member of The Resource Center's Environmental Services crew that maintains the Interstate 86 rest area in Ellery.
"She's dedicated, devoted, consistent, and always goes above and beyond to get her duties done.  We never have issues with her.  The quality of her workmanship is fantastic.  She fills in when we need her to fill in for other needs that arise," said Dan Micek, production superintendent at TRC's manufacturing facilities and the head of the Environment Services operation.  "Her dependability is top-notch for us."
Rivera, who has worked for The Resource Center for eight years, said she has made a lot of friends among her co-workers at the rest area – including the man who would become her husband.
"I feel very honored and special to receive this," she said of her award.  "It means a lot to me."
The recipients of two other awards were unable to attend the event.  Nichole Davis was chosen to receive the Personal Success Award.  After working various jobs, Davis became a certified nursing assistant and obtained a job at a senior facility.  She then achieved one of her goals by getting a job as a pharmacy technician.
Also unable to attend the event was Virginia Lehman, who was selected to receive the Outstanding Achievement Award.  Last year Lehman moved into an independent living situation, and this has enabled her to become more self-sufficient.  And after smoking for many years and saying she would never quit, Lehman gave up smoking.
Closing remarks were given by Richard Erickson, the President of TRC's Board of Directors.  "I'm humbled to be here," Erickson said.  "You guys really amplify the mission of The Resource Center."  He also shared ed a quote from former President Ronald Reagan:
"We can't help everyone, but everyone can help someone."
The Awards Selection Committee was composed of Vicky Bardo, who organized the awards luncheon; Jeanette Caprino, president and co-founder of Kidney Connection; Vesna Carlson, library para-professional with Jamestown Public Schools; Kathy Field, a retired TRC employee who helped organize the awards celebration for many years; Kathy McMaster, community member; and Michael Suppa, retired vice president of Filling the Gap.
Sponsors of the Ability Awareness Awards Celebration included NYSID, HM Insurance and RxBenefits.  TRC's Steve Waterson was the master of ceremonies, while TRC employees Chris Anderson and Austin Mitchell handled the photography and videography responsibilities.
Click here to make a donation in honor of one of the award recipients.
Responsible for the smooth, efficient and cost-effective operation of assigned clinical programs that serve a diverse patient population. In conjunction with and/or under the direction of the Director, is responsible for all activities that improve performance on the triple aim of improved individual and population health, improved patient experience, and reduced cost. To guide the day to day aspects of satisfactory patient visits, workflow efficiency, quality of care and health outcomes. Ensuring adherence with all regulatory compliance, quality assurance plans and fiscal management oversight. Oversees Physical Therapy, Occupational Therapy and Speech Language Pathology departments.
To serve as the lead technical staff in troubleshooting and resolving issues reported by end users for assigned Agency business applications. Research, recommend, and implement new functionality for assigned applications. Ensure assigned applications are updated, operational, and meet the needs of end users.
Under the direction of the Shipping and Receiving Supervisor, oversees the shipping, receiving, routing and verification of all materials and supplies. Maintains, updates and verifies accuracy of inventory for military and subcontracting contracts. Ensures that paperwork processing and forwarding of documentation is done in a timely manner. Maintains a safe and orderly work environment.